Wondering how to get a bigger wake on a pontoon boat? For wakeboarders and wake surfers this is a question that often comes up because pontoon boats don't offer many features that allow you to control the wake size like performance wake boats. In order to get a bigger wake on a pontoon, you can simply add more weight to the boat. By adding weight to the rear of the boat, you will create a taller wake. By adding weight to the rear, you'll create a longer wave. You can easily add weight by purchasing ballast bags. Experimenting with the weight and placement you'll be able to get the perfect wake for your pontoon.
Boat Weight Distribution
If you want an in-depth answer on how to get the perfect weight distribution for creating a bigger wake on your pontoon, then check out this guide all about adding ballast to your boat. It breaks down how everything works and how much ballast you'll need to create the best wake possible.
To summarize: The right amount of ballast needed for wake surfing depends on your boat, but you should start with a 750lb bag in the rear, and some smaller bags in the front to stabilize the wave. Fill each bag up slowly and see how the wake responds to your boat.
You can play around with the position and how much weight you add to shape the wake to your liking. You can always add a pontoon wake shaper as a pontoon wave maker to really get the best results.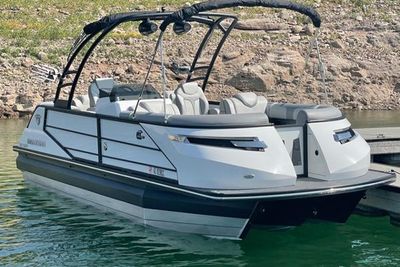 Can You Wakeboard or Wakesurf behind a Pontoon Boat?
Yes, you can wake surf and wakeboard behind a pontoon boat, however, the boat must have an inboard motor otherwise, you risk injury of running into the back of the motor/propellors. Furthermore, most pontoons don't have a great wave for wake surfing or wakeboarding so you'll want to get a performance pontoon that is capable of creating a good size wake.
Check out the full article on, "can you surf behind a pontoon boat" for an in-depth answer and more information on the best boat for wake surfing. This article takes a look at the best wake surfing boat, the Avalon Waketoon. Another amazing boat for wake surfing and wakeboarding is the Montara surf boss.

More on the Montara surf boss wake surfing pontoon boat:
The Surf Boss 2.0 was founded and engineered with the goal to bring all of the great enjoyments of boating and water sports together, into a single boat.
The Surf Boss 2.0's dash system was built with the captain in mind. Offering you maximum control at your finger tips.
With a sleek new design, the Surf Boss 2.0 brings forth a combination of ease of entry and comfort, as well as a top-deck layout designed with socializing in mind.

– https://www.montaraboats.com/
Do wake shapers work on pontoons or ski boats? And can it help shape rough water?
Wake shapers definitely help shape the wave, even on pontoon boats. Some people claim that without a wake shaper they were barely able to ride the wave because of rough water. Other people on Reddit claim that they've tried wake shapers on multiple boats and have confirmed that it 100% helps.

Wake shapers are usually either wake plates or wake fins, which provide a trough in the wake to create large waves. Wake plates work off of the wake style desired and water depth.

Since wake shapers cannot be operated underway, they require more time advance preparation when used for tubing and other watersports as opposed to wakeboarding where it can be deployed quickly.
Conclusion
So the best way to get a bigger wake on your pontoon is by adding weight to the rear of the boat and then playing around with the position and amount of weight to get the perfect wake for your needs. You can also use wake shapers to help create a better wake. If you're looking for more ways to get a bigger wake on your pontoon check out this article on how to add
Wake shapers are wake plates or wake fins, which provide a trough in the wake to create large waves. Wake plates work off of the wake style desired and water depth. Since wake shapers cannot be operated underway, they require more time advance preparation when used for tubing and other watersports as opposed to wakeboarding where it can be deployed quickly. If you're looking for an easy way to get a big wave on your pontoon boat without having to do any major modifications, we recommend buying ballast bags that will let you experiment with different weight distribution until you find what works best with your boat's design. Let us know if this article was helpful! If not just leave a comment below so our team at Montara Boats